A very common plant that graces the landscapes of many makes a light, bright, lemony cup of tea. The lemon fragrance it puts off is why it found its way into the hems of dresses back in the Victorian era. Perhaps you too would love to sample a cup of lemon verbena tea.
What Is Lemon Verbena Tea?
Lemon verbena tea is a tisane (herbal tea) prepared from the leaves of a lemon verbena plant. This tea is often used in traditional medicine to treat various ailments. 
What Is Lemon Verbena?
Lemon verbena (Aloysia citriodora) is an aromatic herbaceous plant native to Argentina and Chile. It's also found in Australia, Bolivia, Brazil, Ecuador, Hawaii, the Pacific, Peru, Paraguay, South America, Uruguay, the U.S., and the U.K.
Aloysia citriodora is known as lemon verbena or lemon beebrush. The lemony fragrance makes this a very aromatic plant.
The leaves and flowers of lemon verbena are of particular interest in traditional medicine. Teas and tinctures are made from the plant and are consumed to treat certain ailments. The cosmetic industry also uses the plant as an ingredient in perfumes and beauty products because of how aromatic it is. And you may even discover lemon verbena in that batch of fragrant potpourri sitting in a bowl of your living room.
A Little History On Lemon Verbena
Lemon verbena was first recorded as Aloysia triphylla by a French botanist named Philibert Commerson. During his explorations around the world, he came upon this plant. However, the plant was given a new name by two botany professors from Spain (Casimiro Ortega and Antonio Verder..) They decided to name the plant to honor the marriage union of the new princess (Maria Luisa de Parma), who became the wife of King Carlos' III son. Aloysia triphylla was now known as "hierba Luisa."
Hierba Luisa found itself in the hands of yet more botanists. By way of Ortega, a plant sample made its way to the University of Oxford (England) Botany Department. From there, the plant species began to journey around the world. The plant was renamed Aloysia citronada. The genus name (Aloysia) honors the Spanish princess (Maria Luisa), and the epithet (citronada) means lemon-scented.
Somehow over time, lemon verbena became popularly used in the culinary world to flavor things like fish, salads, and sweets. During the Victorian days, women weaved a few twigs of lemon verbena in between the hems of their dresses or carried them in their handkerchiefs to smell during the day.
Today, lemon verbena is widely used in folk and traditional medicine and is also made into an herbal tea many come to know and enjoy.
Does Lemon Verbena Tea Taste Like Lemon?
A bit. Lemon verbena tea is a lovely bright, citrusy, herbal tea (tisane) with just the right amount of lemon presence in both aroma and taste. This tea is enjoyed as both a hot and iced tea. Add a drop or two of honey, and you have a wonderful cup of tea.
How Much Caffeine Is In Lemon Verbena Tea?
Lemon verbena tea is a tisane (herbal tea), and herbal teas do not contain caffeine unless they have a blend of a true tea (black, green, yellow, oolong, white) in them. Herbal tea drinkers often opt for tisanes as an alternative to caffeinated true tea.
Does Lemon Verbena Tea Make You Sleepy?
Yes, it can have a calming effect. According to a published research article entitled, "Aloysia citriodora Palau (lemon verbena) for insomnia patients: A randomized, double-blind, placebo-controlled clinical trial of efficacy and safety,) lemon verbena is a popular herb in traditional medicine to treat insomnia. Researchers confirm that the intake of lemon verbena by test subjects improved insomnia after four weeks of taking it. 
Another research study done on rats ("Sedative and Cardiovascular Effects of Aloysia citriodora Palau, on Mice and Rats") confirms a combination of compounds in lemon verbena causes a "benzodiazepine-like" (sedative) effect.
Is Lemon Verbena Good For Anxiety?
The Latin Journal of Medicine published a study on the sedative effects of lemon verbena on rats. They mention how this herb is widely used in South America to help ease anxiety. In the International Journal of Plant, Animal, and Environment Sciences, an article notes lemon verbena has a history of use as an anti-anxiety and sedating complementary medicinal treatment. 
Is It Okay To Drink Lemon Verbena Tea Every Day?
As with any tea or tisane (herbal tea), we can't provide recommendations or advice on whether or not they are safe to consume. Some teas (and tisanes) can cause side effects, adverse reactions, interact with medication, or worsen existing medical conditions. It's best to check with your doctor first to make sure it's safe for you to enjoy.
Providing you are cleared to consume teas (per your doctor,) we can tell you that lemon verbena tea may not be ideal for enjoying in the middle of the day but rather in the evening. Evidence-based data points to this tisane (herbal tea) as having a sedating effect. So, the last thing you want is to drink a cup of this tea while you need a boost in energy at work or before you get behind the wheel of a car or other machinery.
Lemon Verbena Tea Benefits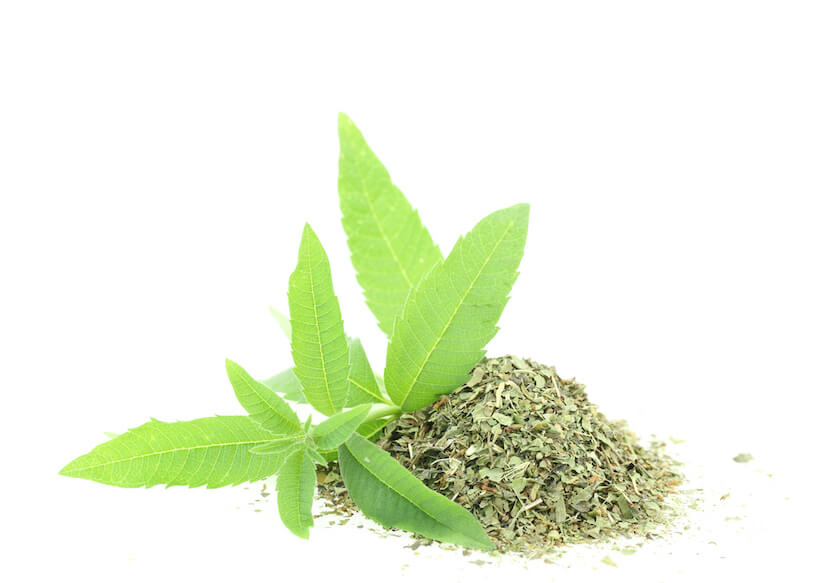 Lemon verbena tea is a popular tisane (herbal tea) that traditional medicine practitioners use. It also comes in the form of dietary supplements to help with insomnia, muscle soreness, and much more.
Researchers who conducted a study ("Essential Oil Composition and Total Flavonoid Content of Aloysia Citriodora Palau Under Different Cultivations Systems") mentions lemon verbena's use (via traditional medicine) to treat colds, asthma, muscle spasms, flatulence, fever, colic, diarrhea, insomnia, and anxiety. The study goes on to also state that the leaves of lemon verbena exhibit medicinal properties such as sedative, antispasmodic, antipyretic, and antimicrobial. 
A published research article entitled "Morphological and Anatomical Investigation of Aloysia Citrodora Palau – New Medicinal Plant Introduced in Romania" notes lemon verbena's use in Cuba for insomnia and an expectorant. In contrast, Paraguay uses it for anxiety, headache, and tachycardia. 
Lemon verbena also exhibits antispasmodic effects through intestinal relaxation because of the presence of two flavonoids (vitexin and isovitexin). Vitexin is said to also be an antioxidant. Furthermore, lemon verbena exhibits anti-inflammatory, analgesic, sedating, antimicrobial, and antipyretic abilities.
What Is Lemon Verbena Tea Good For?
Many use lemon verbena in different ways that include aromatherapy, perfumes, cosmetics, and even insecticide. The evidence-based data on this herbaceous plant indicate its medicinal merit.
The herbal, beauty product, food & beverage, and culinary industries use lemon verbena in a variety of ways that include essential oils, aromatherapy, perfume, cosmetics, flavoring dishes, teas, tinctures, and supplements. Surprisingly, the insecticide industry has even found a way to use it to fight off midges, gnats, flies, and mosquitoes.
Is Lemon Verbena Tea Safe To Drink?
The FDA (Food and Drug Administration) recognizes lemon verbena as "Generally Regarded As Safe." A research study ("Evaluation of the antibacterial effects of aqueous and ethanolic leaf extracts of Aloysia Citriodora (Lemon verbena) on Streptococcus mutans and Streptococcus sobrinus") also mentions lemon verbena tea as "safe" to consume.
How To Make Lemon Verbena Tea
If you choose to enjoy this tea, sourcing it from a reliable, reputable retailer is ideal. There are various subspecies of lemon verbena that may have other side effects that we have not covered. So, picking fresh lemon verbena leaves should only be done by those who can identify it from other lemon verbena species/subspecies. Buying a good-quality loose-leaf lemon verbena tea is the best way to go.
We have a few delicious lemon verbena tea recipes to try.
Hot Lemon Verbena And Mint Tea Recipe
Ingredients:
1 teaspoon of loose-leaf lemon verbena tea
1 teaspoon of loose-leaf mint tea
2 cups of water
Directions:
Bring the water to a boil.
Remove from the heat.
Place loose-leaf teas into a tea infuser.
Drop the tea infuser into the hot water.
Cover and allow to steep for 5 minutes.
Remove the cover and tea infuser.
Pour the tea into a teacup and enjoy!
Iced Lemon Verbena Berry Tea Recipe
Ingredients:
6 teaspoons of loose-leaf lemon verbena tea
2 teaspoons of loose-leaf mint tea
6 cups of water
1 cup of fresh raspberries (thoroughly washed)
A few sprigs of fresh mint
1 lemon cut into slices
4 teaspoons of honey
Directions:
Bring the water to a boil.
Remove from the heat.
Place loose-leaf teas into a tea infuser.
Drop the tea infuser into the hot water.
Cover and allow to steep for 5 minutes.
Remove the cover and tea infuser.
Allow the tea to cool off.
Once cool, pour the tea into a tea pitcher.
Add the fresh berries, honey, and slices of lemon.
Refrigerate for a few hours.
Pour into glasses filled with ice.
Garnish each drink with a sprig of mint and enjoy!
Lemon Verbena May Not Be So "Sour" After All
This tea can be a "sweet" one, provided it's enjoyed in moderation and consumed with caution as any other tisane (herbal tea) is. Do your homework and read up on any herbal plant before drinking teas made from it. An ounce of caution prevents a "sour" outcome.