Did you know a tea strainer isn't the same thing as a more familiar tea infuser? Join us in the world of "teaware-etiquette" to find out what sets these two accessories apart.
Disclosure: as an Amazon Associate we earn from qualifying purchases. Learn more.
What Is A Tea Strainer?
Some tea drinkers prefer not to use a tea infuser to steep their tea. Instead, they add loose-leaf tea directly to a teapot full of hot water. A tea strainer is used to catch the loose-leaf tea as the tea (from the teapot) is poured into a teacup. The tea strainer is then removed, and the spent tea gets discarded. Most tea strainers come in two designs: single handle or double handle.
Tea Strainer vs. Tea Infuser
Tea strainers and infusers are separate devices that each serve a specific function. The common denominator between them is they both hold tea, and that's it.
A tea infuser is enclosed and designed to place a barrier between loose-leaf tea and water. It is typically placed underneath the surface of the water. A tea strainer is an open device with mesh or holes that is placed on the top of a teacup. The tea strainer catches loose-leaf tea as steeped tea is poured from a teapot into a teacup.
You may find some teaware retailers marketing tea infusers as tea strainers (i.e., tea strainer ball.) If you see a device marketed as a "tea steeper," it will most likely be either a tea infuser or a tea strainer.
| | |
| --- | --- |
| Tea Infuser | Tea Strainer |
| Function: to keep loose-leaf tea separated by a barrier while allowing water in during the steeping process. | Function: to act as a catch-basin for loose-leaf tea as steeped tea is poured from a teapot into a teacup. |
| Design: enclosed (except the basket infuser which is open on the top). | Design: open. |
| Placement: under the water surface in a teacup or teapot. | Placement: on the top of a teacup. |
| Types: ball, basket, scoop, hanging, standing. | Types: double handle (English,) single handle |
Types of Tea Strainers
Unlike tea infusers, loose-leaf tea strainers don't come in a wide array of designs and colors. They do, however, either come in a single handle or double handle design. They both function the same way, with the exception being that the single handle must be held while pouring tea while the double handle is a hands-free alternative.
Single Handle
A single-handle tea strainer looks very much like a miniature hand-held strainer we use to strain cooked foods. These small strainers are designed in a way that the strainer can be held by one hand while pouring tea into the strainer/teacup with the other hand.
Single handle tea strainers have a universal design, being that a long handle is attached to a circular basket. The most common types of single-handle strainers are either metal or bamboo.
Metal
Metal is commonly used by westernized tea drinkers. This strainer will either have a rounded or conical mesh basket with a long handle. Many metal tea strainers have either one or two ears on the opposite side of the long handle. These ears are metal protrusions that allow the strainer to sit on top of a teacup, so holding it isn't required. Fancier metal tea strainers may feature a lovely wooden handle for a more organic appeal.
Wooden
Bamboo tea strainers (single handle) are popular among Asian tea drinkers and those who seek a more organic lifestyle. The basket may be made of solid bamboo wood or feature a woven design.
Sock
A sock tea strainer is more of a specialty strainer used for tea pulling with very specific teas, such as Thai tea. This type of strainer features a long handle with a deep cloth basket (sock).
Double Handle
The double handle tea strainer is typically metal. However, there is a handful that is made from bamboo. Whether metal or bamboo, the double handle tea strainer is constructed in a way that features a handle on opposite sides of the basket, which allows the strainer to be placed on top of a teacup. This hands-free option is much easier when it comes to pouring tea.
The basket of a double handle strainer will either be mesh or metal with holes in the bottom of it. The bamboo counterpart's basket is either solid wood with holes in the bottom or features woven bamboo. Woven bamboo strains the tea in such a way that water is able to freely flow through the spaces between the bamboo weaves while catching the tea leaves inside of the basket.
Many tea drinkers refer to a fancier filigree metal tea strainer with double handles as an "English tea strainer." These beautiful tea strainers are more traditional and come with various scrolled metalwork on the handles. English tea strainers may be made of silver and be far more expensive.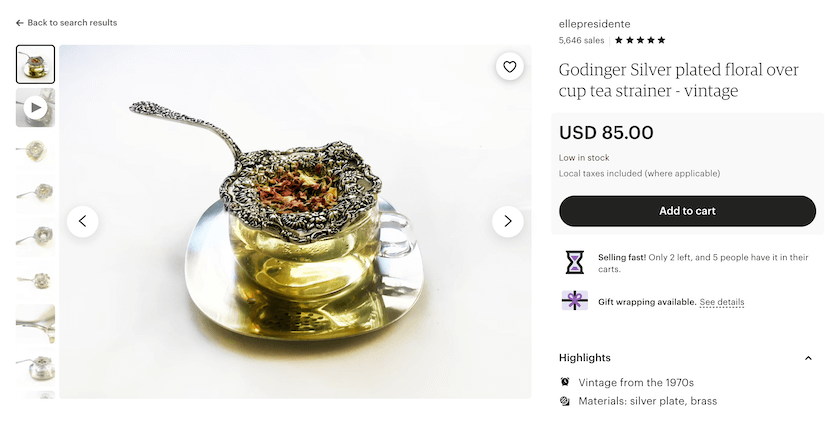 Best Tea Strainers According to Tea Lovers
Through our diligent research, we've come up with the leading tea strainers. Our findings are based upon trending products, ratings, reviews, advantages, and disadvantages. You'll have enough information to be able to make a well-informed purchase.
So, let's take a look at various tea strainers landing in the carts of online shoppers!
Single Handle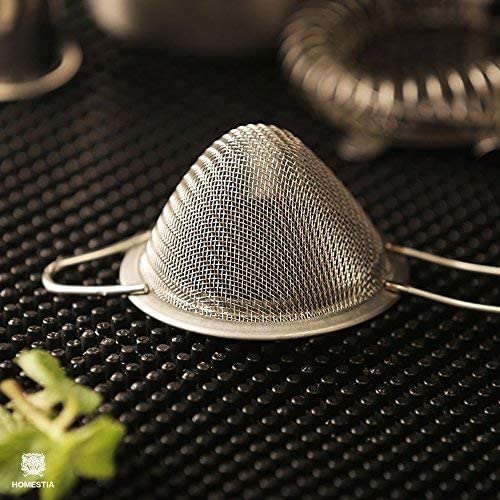 $6.99
Rating: 4.7 stars (82% rated as 5 stars)
Pros and Cons
Pros

Cons

Made of durable stainless steel.
Comes in various colors; silver, rose gold, gold, and black.
3.3" wide opening helps to trap spent tea without restricting the flow of poured tea.
Features a single ear on the opposite side to allow the strainer to sit on top of a teacup for hands-free pouring.
Conical basket shape traps spent tea in the bottom. This allows a faster pour.
Outstanding ratings!

Not dishwasher safe.
There are identical strainers online with a different retailer's name on the strainer.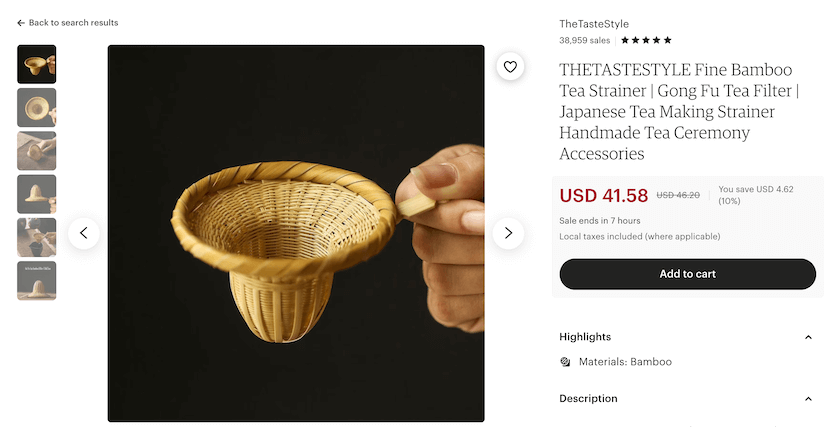 $41.58
Rating:5 stars (100% rated as 5 stars)
Pros and Cons
Pros

Cons

It's simplistic appearance and materials are organically beautiful.
The ratings are phenomenal.
Perfect for Gong Fu tea ceremonies.
Has an Asian appeal that adds a decorative element when enjoying green tea.

Cannot be placed in the dishwasher.
Must be gently cleaned.
Some bits of spent tea can escape into the teacup.
May become discolored over time due to tea tannins.
Very expensive.
Double Handle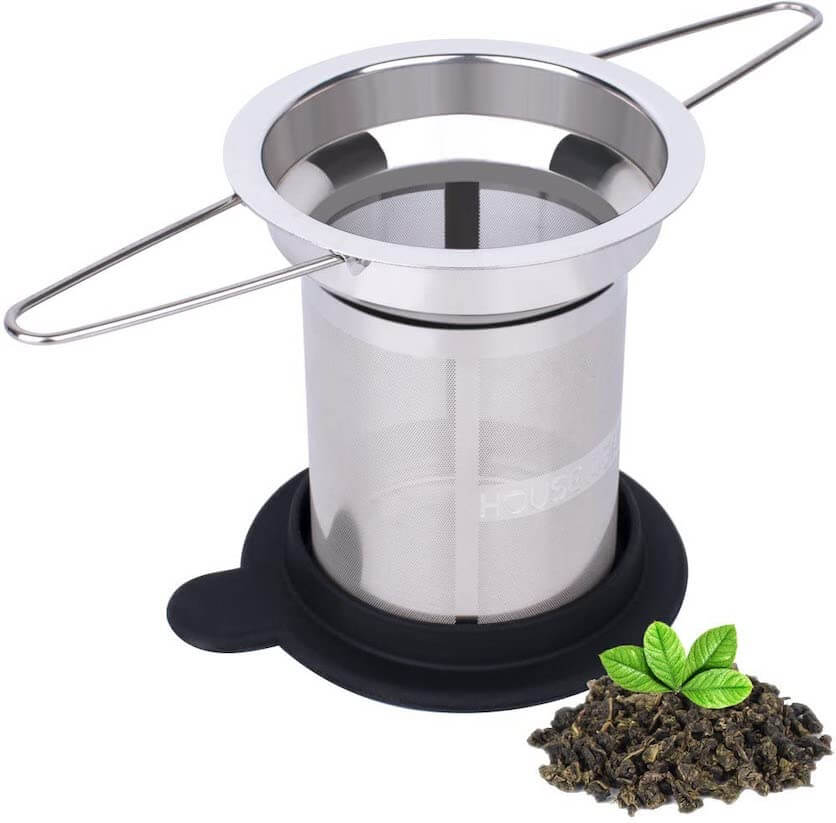 $8.99
Rating: 4.7 stars (81% rated as 5 stars)
Pros and Cons
Pros

Cons

High capacity making it ideal for large teacups or travel mugs.
Easily sits on top of wide teacups.
Comes with a lid to place on top of the basket or as a drip tray.

The mesh is so fine that it bends easily and is difficult to clean.
Develops rust around the handle.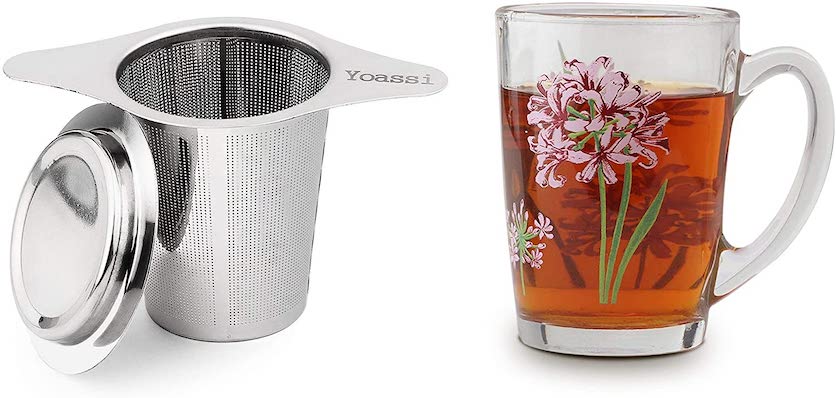 $15.99
Rating: 4.7 stars (84% rated as 5 stars)
Pros and Cons
Pros

Cons

High capacity accommodates tisanes or teas with bulky pieces.
Comes with a drip tray that can also be used as a lid.
Can also be used as an infuser.

As a strainer, it should be held to prevent the deep basket from coming into contact with the tea.
Tends to have a short lifespan.
Choosing A Tea Strainer
When shopping around for a tea strainer, keep in mind how you want it to perform.
Capacity And Performance
Do you want a tea strainer designed for bulkier teas such as tisanes or full-leaf teas? If so, those teas are heavier and may do best with a double handle strainer, so you don't have to hold it. Bulky teas do well in a wider mesh compared to fine mesh. Likewise, lighter weight tea does better in fine mesh and a conical basket shape.
Materials
How long do you want your tea strainer to last, and how much time cleaning it do you want to invest? Fine mesh dents easily, is harder to clean and lasts less time.
How To Use A Tea Strainer
A tea strainer is relatively easy to use. A single handle strainer is held over a teacup as the tea is poured into the strainer. The spent tea remains in the strainer while the tea flows on into the teacup. Double handle strainers rest on top of the teacup and function in the same manner.
Once you have poured your tea, you can discard or rebrew the spent tea. When enjoying tea as a guest, you should place your tea strainer on a tray that is provided by your host.
To prevent rust, avoid the dishwasher. Wash it by hand and dry it afterward. Water is a tea strainer's worst enemy. The longer the water stays in contact, the quicker it breaks, fails, and rusts.
Where To Buy A Tea Strainer
There are many online teaware retailers who sell tea strainers. One of the first places to look is Amazon.com. For something vintage, check out Etsy.com. Tea blogs are valuable sources of recommendations.
No More "Straining" To Understand
Now you know a tea strainer isn't a tea infuser and vice versa. A tiny bit of knowledge goes a long way when it comes to a good cup of tea!