Not sure how to choose a tea infuser that fits your lifestyle and needs? Well, you have come to the right place because we break it all down on what type of tea infuser is best and why.
Disclosure: as an Amazon Associate we earn from qualifying purchases. Learn more.
What Is A Tea Infuser
A tea infuser is a device/accessory tea drinkers use to steep a loose leaf tea in hot or cold brewing. Tea infusers come in various different sizes, designs, and materials. All have the same function — that is to contain loose-leaf tea while allowing water to bathe over the tea to steep the perfect cup, bottle, or pitcher of tea.
Because loose-leaf tea is better in quality, many avid tea drinkers choose to use it, rarely ever giving in to teabags. Just as tea selection is a personal preference, so should a tea infuser be the same. Each tea drinker prefers a certain type of infuser based on their choice of steeping. Tea infusers are also selected based on their sleek designs.
Types of Infusers
The average tea drinker buys several loose-leaf tea infusers before settling on one. Tea infusers are similar to a pair of shoes. You have to try it on to get the feel. There are tea-drinking behaviors that play a vital role in the type of tea infuser tea drinkers prefer.
For the impatient tea brewer, perhaps a more open mesh infuser is the answer. For those who detest any particle of loose-leaf tea getting into their tea, a tight-knit mesh is a solution. Compact, small infusers that are portable are often the choice for those who carry loose-leaf tea to work to brew. The beauty of having so many different choices in tea infusers is that there's one that will fit a tea drinker like a well-fitting pair of shoes!
Double-Handle Basket
This infuser is a double-handle basket infuser that sits on top of a cup or small teapot. It is deep enough that the bottom of the basket becomes submerged underneath the water. The handles act as a lip to support the mesh basket. Loose-leaf tea is placed into the basket, and hot water is poured into the basket which flows out into a teacup/teapot.
Ball or Cylinder Infusers
These infusers are the most commonly used type of infuser among loose-leaf tea drinkers. They are either shaped like a ball or cylinder. Both are constructed with metal mesh and feature a chain with a hook. The ball opens up to place loose-leaf tea in. The cylinder top screws off to allow the tea to be placed inside. Once dropped into a cup of hot water, the hook on the end of the chain is hung from the side of the cup.
Scoop Infuser
Scoop infusers feature a ball-like shape which is where the loose-leaf tea is placed. A long handle attaches to the ball, and when squeezed, the spring-loaded handles open the ball to load the tea. Once loaded, the ball end is dropped into the teacup full of hot water. This type of infuser makes it easy to discard spent tea which is done by squeezing the handles.
Pot-Over-Cup Infuser
This odd infuser is becoming popular. However, it still has a way to go as far as trending among traditional tea drinkers. A small pot features a squeeze handle that releases steeped tea into a teacup. It starts by placing the pot on top of a teacup. Loose-leaf tea is placed inside the pot, followed by hot water. The lid is placed back onto the pot, and the tea is allowed to steep. Once done, you squeeze the handle to release the tea into the teacup while spent tea remains behind in the pot.
Infuser Pots, Pitchers, and Bottles
Some teapots now feature a built-in infuser that sits in the center of the teapot. This cylinder is where the loose-leaf tea is placed. Hot water is poured into the teapot, and the water bathes the tea leaves by penetrating the mesh of the cylinder.
This same concept is used for cold-brew with pitchers and bottles. You can cold brew your tea overnight to enjoy the next day. Cold-brew tea-infusing bottles are perfect for on-the-go tea drinkers.
Whimsical
Colorful and unique are perfect descriptives for those one-of-kind tea infusers. Some hang on the sides of your cup that look like animals. There are tall infusers that sit on the bottom of your teacup and poke up and above the tea that resemble dinosaurs or tree branches. While most of these are cute, they don't have mesh to allow the water and tea to marry but rather small holes that are few. This design makes it difficult to get a good-robust cup of tea.
Best Tea Infusers According to Tea Lovers
We have thoroughly researched various infusers and the numerous reviewings and ratings. Additionally, we scoured Amazon to look at what's trending and why. By doing this, we provide you with the leading types of tea infusers to help you make a well-informed purchasing decision.
So, let's look at those tea infusers flying off the shelves and the advantages and disadvantages of each.
Tea Ball Infuser
$10.99 (for 2)
Rating: 4.7 stars (79% rated as 5 stars)
Pros and Cons
Pros

Cons

Tea does not escape through the mesh.
Easy to use.

Lid is sharp causing cuts.
Lid tends to be hard to get off.
Rust develops.
Not big enough
Teapot Infuser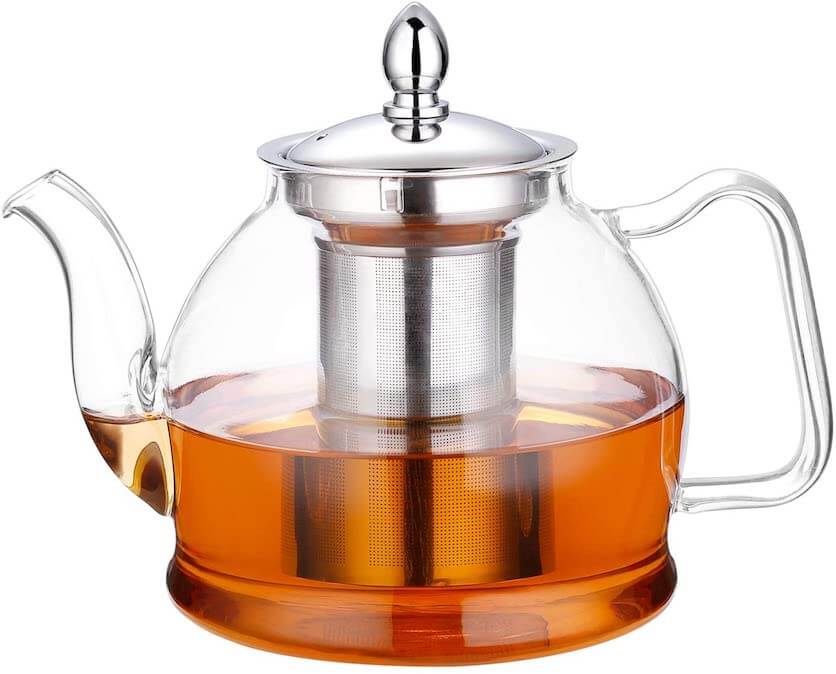 $22.99
Rating: 4.6 stars (77% rated as 5 stars)
Pros and Cons
Pros

Cons

Large enough to make 4 cups of tea.
Can be used for hot or cold brewing.

Breakable glass.
Not airtight.
Whimsical Tea Infuser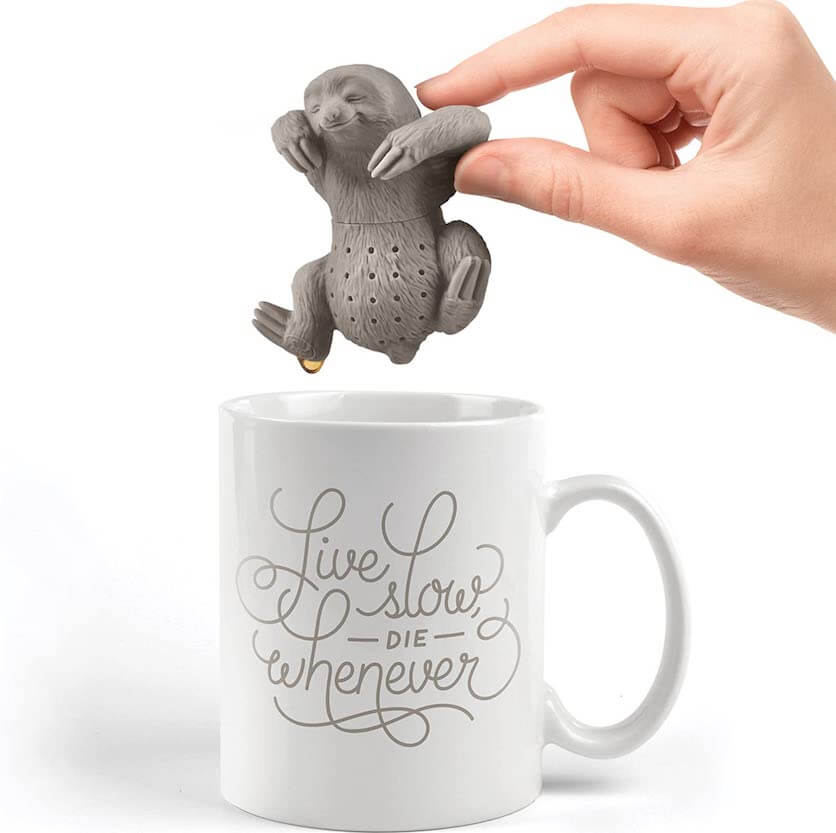 $8.99 – $13.99
Rating: 4.5 stars (74% rated as 5 stars)
Pros and Cons
Pros

Cons

Perfectly hangs off the side of the teacup.
Instagrammable and gift-worthy

Water does not adequately marry with the tea causing weak tea.
Tea must be packed into small areas hard to reach in order to close the top.
Better in looks than function.
Cold-Brew Tea Infuser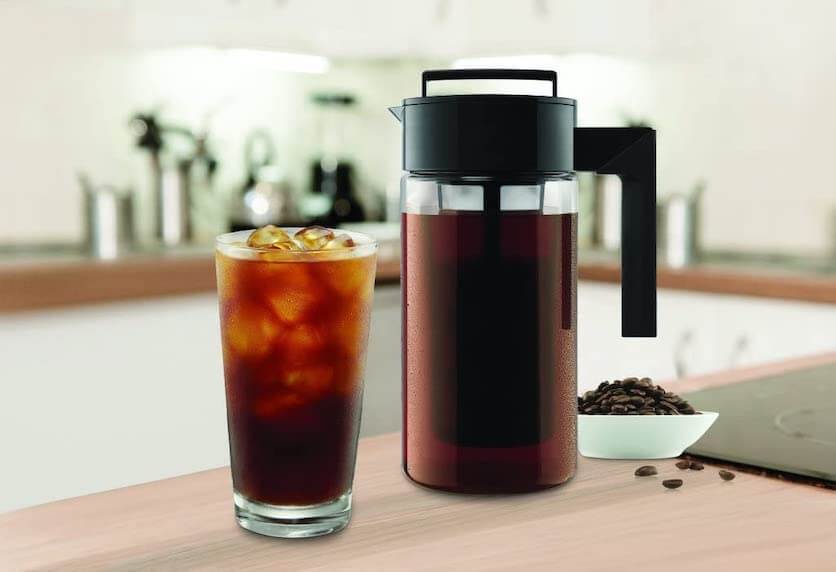 $24.99 (1-quart) $34.99 (2-quart)
Ratings: 4.7 stars (79% rated as 5 stars)
Pros and Cons
Pros

Cons

Can be used for iced coffee or tea.
Mesh allows perfect water/tea infusion.
Easy to clean.
Comes in two sizes; 1 or 2 quarts.
Airtight lid.
Durable plastic.

Plastic tends to get scratchy looking over time.
A bit more pricey.
A Few Noteworthy Tea Infusers
We feel that a few other tea infusers deserve some recognition. These may not reach the "best-selling" list but have merit worth mentioning.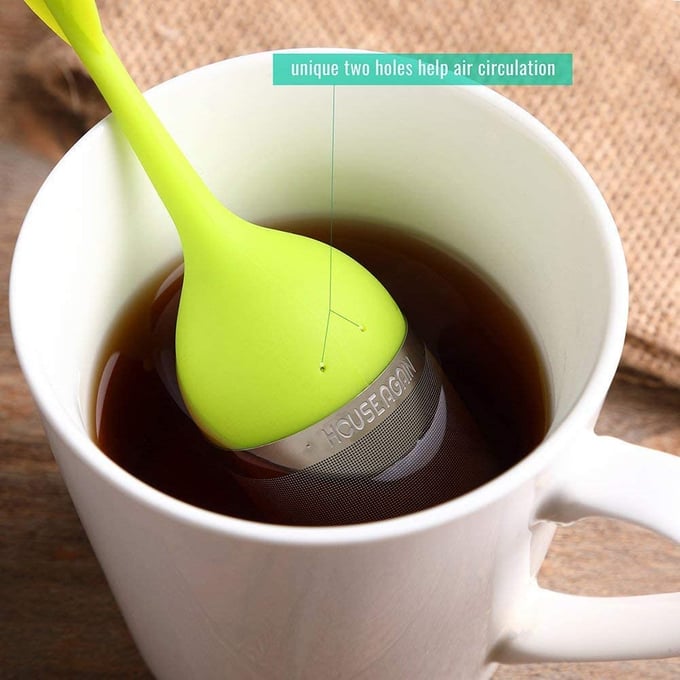 $10.99 (4-pack: Choice of either leaf or flower design)
Ratings: 4.7 stars (81% rated as 5 stars)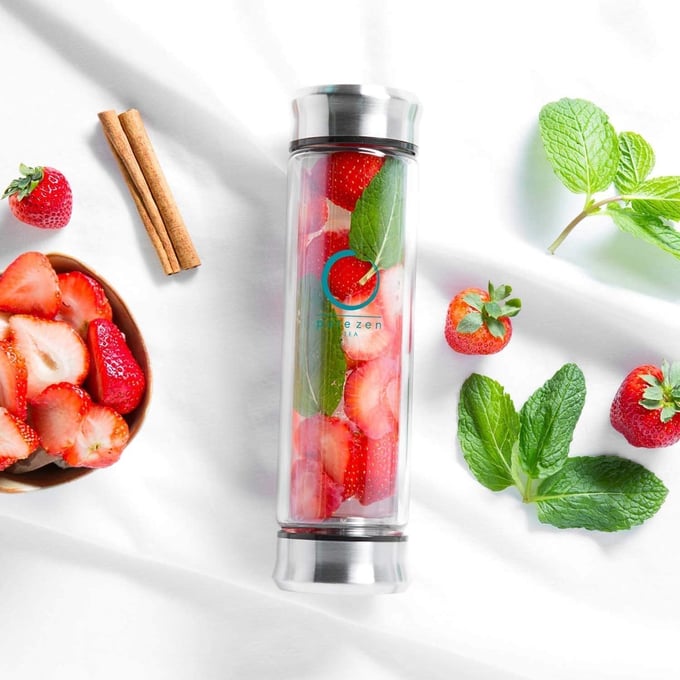 $40.75
Ratings: 4.5 stars (77% rated as 5 stars)
Choosing A Tea Infuser
When it comes to selecting a tea infuser, it's important to look designer, cutesy appeal, and focus on function. Otherwise, you'll end up with nothing more than a decorative element for your teacup. There are several things to consider when shopping around.
Capacity
Will the infuser hold the amount of loose-leaf tea to make the amount of tea you desire? Any tea infuser that requires you to pack down tea into the infuser to get it in will yield a weak tea. This is because the water won't be able to flow through the compacted tea.
Materials
Will the infuser melt, break, or rust? Glass breaks, plastic melts and cracks, and metal eventually rust. However, metal tends to go a lot further.
Performance
Can water freely flow throughout the infuser's holes/mesh without hindrance? The following causes weak tea.
Holes: too small or not enough
Ultrafine mesh
Compacted tea
How To Use A Tea Infuser
Using a tea infuser is somewhat universal regardless of the type of infuser you have. After measuring your loose-leaf tea, placing it into the infuser, and securing it (if applicable,) you are ready to steep the tea.
What sets tea infusers apart when it comes to its use is the post-use treatment.
Cleaning A Tea Infuser
Tea infusers should be thoroughly cleaned after every use. As tempted as we are to simply rinse and reuse, we don't recommend doing this. Should your loose tea be host to any trace of bacteria, it can pass bacteria off to your infuser.
The longevity and health of any tea infuser depend on how well they are cared for. Your health may be impacted by an unclean/unhealthy/rusty infuser. It's best to wash infusers with dish soap and hot water. Although it may be deemed dishwasher safe, dishwashers shorten the life of infusers.
Where To Buy A Tea Infuser
There are many places to buy a tea infuser. Amazon.com is a great place to browse where you can check out reviews, ratings, and features. Tea blogs (such as ours) are also a valuable source of information where you can get an unbiased perspective and recommendations.
Infusion Shouldn't Be Confusing
Now that you have the "goods" on tea infusers, you should know how to choose a tea infuser that works for you rather than for the general tea-drinking population. Remember, it's all about the perfect fit, not the bells and whistles.