Its name implies a fierce punch of power in a tea, but we bust that mythical impression. We were amazed at what we discovered about gunpowder tea. It's a sheep in wolf's clothing (not a wolf in sheep's clothing!)
What Is Gunpowder Tea?
"Gunpowder" is a reference used to describe a tea that has been processed into a pearl, ball-like shape which resembles actual gunpowder pellets.
Stories tell of how gunpowder tea got its name. Some claim that "gang pao de" (sounds like "gunpowder") translates to "freshly brewed" in Chinese. However, we weren't able to find any evidence of this. "Gang pao de" actually translates to "cannon" in Chinese. Perhaps the gunpowder-like pellet appearance of the tea led to its name. We may never really know.
Variations Of Gunpowder Tea
Because "gunpowder" is a term used to describe a tea's processed shape, many wonder, "Is gunpowder tea the same as green tea?" Gunpowder tea can be green, black, oolong, or a tisane (herbal tea). However, the most common variation of gunpowder is green tea.
Green Gunpowder Tea
Pinhead Gunpowder
Gunpowder Spearmint
Gunpowder Green
Jasmine Dragon Pearl
So what is gunpowder green tea made from? Chinese gunpowder green tea is typically made from Sencha (one of the most consumed green teas in China.)
Black Gunpowder Tea
Black teas that are processed as gunpowder that include Moroccan Mint and Chinese black tea such as Yunnan. Other black teas may also be marketed as gunpowder because they too are processed as gunpowder. Black pearl gunpowder tea is another tea marketed as a gunpowder tea. It is usually made from black tea from China.
Oolong Gunpowder Tea
Taiwan's Formosa Oolong tea is another type of true tea processed and sold as gunpowder tea.
How Gunpowder Tea Is Processed
Now we dig into the nitty-gritty of what makes a tea a "gunpowder" tea. Gunpowder tea processing is produced either through the traditional method or the modern method. So, is gunpowder tea smoked since it has a smoky taste? Many gunpowder teas are roasted (not all, though.) Roasting is what gives it that smoky aroma and taste.
Traditional Method Of Processing Gunpowder Tea
Higher quality gunpowder tea is produced using the traditional processing method. When sourcing your gunpowder tea, it's important to determine if this method was used. This will ensure you get the very best.
Harvested tea leaves are plucked and carried back to the processing plant. The tea leaves are spread out on bamboo trays where they undergo withering. During withering, workers toss the tea leaves to help with aeration. The more the tea leaves are handled, the quicker the withering. During this time, the tea leaves are allowed to oxidize to a certain point.
The tea leaves are then taken to an area for fixation (the oxidation process is stopped) occurs through heating. They are then cooled down, and the shaping begins. Shaping typically starts with the tea leaves being placed into large pieces of cloth, which are tied tightly, forming a large ball. These balls of tea leaves are moved around manually or by machine to roll and shape.
Depending on what variation of tea the tea maker is processing, the rolled and shaped tea leaves may go on to roasting over a charcoal fire or be placed in an oven that dries the tea. If that latter drying is employed, the tea goes on to packaging.
If the tea goes on to be roasted, the tea leaves are placed in bamboo trays or in a wok over a charcoal fire. Roasting can take as long as 12 hours. During this step, workers use their hands to continue shaping and rolling the tea leaves in the hot woks or trays. As the moisture evaporates and the tea leaves are hand-rolled, the gunpowder tea nears completion. Once the roasting is completed, the tea goes on to be packaged.
Modern Method Of Processing Gunpowder Tea
Unlike the traditional method, which is done by hand, some tea makers opt to use machinery which is quicker and less laborious. The harvested tea leaves are placed into machines that do all the work from start to end.
What Does Gunpowder Tea Taste Like?
It isn't easy to generalize the overall taste of gunpowder tea because variations of gunpowder tea have their own unique flavors. To help pin down a certain taste, we have broken down different gunpowder teas and their tastes.
Green Gunpowder Tea
Pinhead Gunpowder, Gunpowder Spearmint, and Gunpowder Green teas share vegetal overtones. Jasmine Dragon Pearl and Gunpowder Green teas both have a smoky aroma and flavor nuances Gunpowder teas are known for.
Pinhead Gunpowder
Gunpowder Spearmint
Gunpowder Green
Jasmine Dragon Pearl
Black Gunpowder Tea
Moroccan Mint (a black gunpowder tea) is bold enough to stand on its own with the potent minty aroma and taste. However, Black Pearl has the smoky characteristics that often accompany any Gunpowder tea.
Oolong Gunpowder Tea
Oolongs are known for their lovely floral aroma and taste with a sweet finish. These attributes are found in Formosa Gunpowder tea.
How Much Caffeine In Gunpowder Green Tea
Each variation of gunpowder tea, whether green, black, or oolong, averages about 40 mg of caffeine per six-ounce serving. Surprisingly, many tea drinkers assume gunpowder packs a punch in caffeine because of its name, "gunpowder." However, the caffeine levels align with those of other true teas (black, green, oolong, yellow, and white.)
Is It Okay To Drink Gunpowder Tea Every Day?
We don't have the medical expertise to tell you whether or not any tea is safe to consume. Some medical conditions can be exacerbated by tea while medications or drugs and tea interact, causing adverse reactions or side effects. Talking to your healthcare provider is the best way to know if tea is safe for you to consume or not.
True teas (black, green, oolong, yellow, and white) all contain caffeine. Overconsumption of caffeine can cause jitters, rapid heartbeat, anxiety, and insomnia. Likewise, some teas come with side effects that tea drinkers need to be aware of.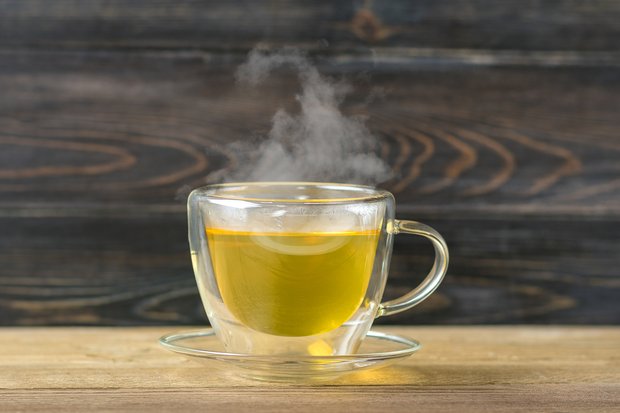 Gunpowder Green Tea Benefits
The summarized health benefits that gunpowder teas provide include:
Promotes cardiovascular health
Acts as an antidiabetic
Acts as an anti-inflammatory
Optimizes metabolic system
Reduces the risk of neurodegenerative disorders
A study published by the Current Pharmaceutical Design Journal notes that black tea promotes cardiovascular, optimizes metabolism as an antidiabetic, and helps to alleviate inflammatory conditions such as osteoarthritis and rheumatoid arthritis.
The National Library of Medicine published a study ("Tea and Health: Studies In Humans") that highlights several benefits from tea consumption. Reduced risk of coronary artery disease and stroke were discovered in men and women who consumed green tea daily. Tea improves glucose metabolism and insulin signaling in those with diabetes while reducing the risk of Type II Diabetes in those who are not diabetic. Tea also helps to reduce the risk of neurodegenerative diseases such as Parkinson' Disease.
How To Brew Gunpowder Green Tea
Since there are several variations of gunpowder tea, we want to give you something a bit creative and uber yummy to try. We have a recipe that transports you to a tropical island where the sand is warm in between the toes and the tea tickles the tummy with layers of flavors. Don't worry about "How long should gunpowder tea steep?" because we have that covered too.
Tropical Gunpowder Tea Teaser
Servings: 4
Ingredients
5 cups of water
8 teaspoons of organic green pinhead gunpowder loose-leaf tea
½ cup of freshly squeezed orange juice
½ cup of pineapple juice
Fresh slices of pineapple
Fresh slices of mandarin orange
Fresh maraschino cherries
Ice
Clear chilled glasses
Directions
Heat the water to about 185 degrees (F) (85 degrees C.)
Remove from the heat.
Place the loose leaf tea into a tea infuser.
Pour the hot water into a teapot.
Drop the tea infuser into the teapot.
Cover and allow the tea to steep for 5 minutes.
Remove the cover and allow the tea to cool off to room temperature.
Pour the cooled tea into ice-filled glasses.
Add a maraschino cherry, slice of pineapple, and mandarin orange.
Enjoy your tropical tea teaser!
Give Gunpowder Tea A Try!
Gunpowder tea is an interesting line of teas worth exploring. Don't forget that most of these teas are inherently smoky tasting (except pinhead gunpowder.) Pair a cup of the smoky gunpowders with s'mores around a campfire, and you have a winning drink!